The multi-billion-dollar deals clinched during Prime Minister Narendra Modi's meeting with Russian President Vladimir Putin on the sidelines of the recent BRICS summit at Goa can be expected to breathe new life into the India-Russia relationship. In a world of shifting global alliances and especially in the context of India seeking to diversify its weapons purchases and build a close relationship with the United States, and Russia exploring new cooperation with Pakistan that includes the sale of MI-35 attack helicopters and joint military exercises, it did seem that India and Russia were drifting apart and that their decades-old partnership was in jeopardy. Such apprehensions are likely to have been allayed in Delhi and Moscow following the Goa meeting.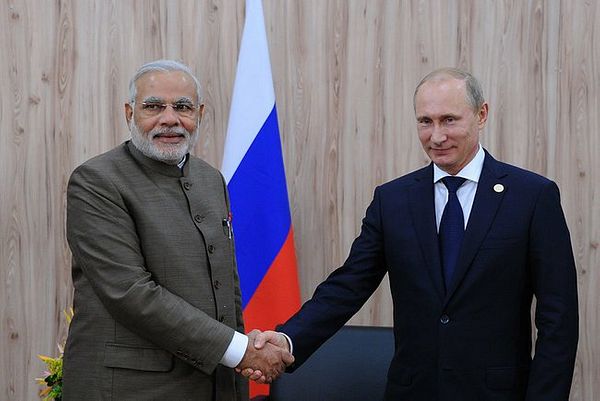 The deals sealed in Goa will see Russia selling India five S-400 Triumf air defense systems costing $4.5 billion and four Krivak class stealth frigates costing over $3 billion. Also, India and Russia plan to set up a joint venture in India to manufacture Kamov-226T helicopters. These will not only strengthen the India-Russia relationship and enhance India's defenses – the S-400 systems, for instance, are capable of destroying incoming enemy aircraft, missiles, and even drones at ranges of up to 400 km – but also, the Make-in-India component of the deals provides a shot in the arm to Indian manufacturing. The deals underscore that despite Delhi's defense purchase diversification, Russia remains India's top military hardware supplier.
The robustness of their military relationship notwithstanding, there is a reason for concern over India-Russia ties. Non-military trade is in trouble. It is estimated to be worth less than $10 billion. If decades ago, Mo-scow was India's major trading partner, today it does not figure in the list of India's top 30 trading partners. Ambitious targets have been set; India and Russia pledged last year to bump up trade to $25 billion in a decade. But little is being done to achieve this goal. There has been the talk of reviving the old rupee-rouble trade and working on the International North-South Transport Corridor.
READ ALSO : 
While defense ties remain robust, India and Russia need to stand by each other more resolutely. Just as India stood by Moscow on the Crimean crisis, Moscow could be more strongly supportive of India on issues undermining the latter's security. Its failure to rally BRICS members to show more solidarity with India's problems with terrorism emanating from Pakistan, for instance, was disappointing. This is a matter that India must raise with the Russians.